Northern California Wildfires: How to Protect your Eyes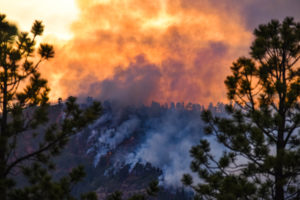 Gusty winds combined with warm weather are two main factors that may cause wildfires to spread quickly and fast.  The Kincade fire started early Thursday morning and has damaged about 76,825 acres of land.   With gusty winds, it's natural for many people in the Bay Area to experience smoke pollution, even if the fire is far away. However, the Doctors at Pacific Eye Associates have some pro tips to help protect your eyes from the wildfire smoke.
Smoke Particles and Your Eyes
The smoke from wildfires is made up of tiny particles too tiny to be seen with the naked eye.  These little bits of particles are a mixture of gases and particulate matter.  What is particulate matter made of you might ask?  The particulate matter is made up of acids (nitrates and sulfates), organic chemicals, metals, soil, and dust.  For example, if a wildfire burns through trees, grass, cars, and houses.  Then, these are bits of burnt materials are in the particulate matter in the air, thus damaging our eyes and lungs.
How to Protect your Eyes?
Most of the time eye irritations from smoke may be soothed with over the counter artificial tears.  If you wear contacts, try to ditch them for the time being and stick to eyeglasses. When your at home, apply a cold towel or compresses to your eyes to help relieve itching and burning  Also, try to remain indoors with the windows closed.  If your eyes become extremely irritated it may help to flush your eyes with eyes drops.
Please contact us for an appointment if your eyes remain irritated for longer than a week.  Your vision is important and we are here to help!  Request an appointment by visiting our website, www.pacificeye.com or call us at 415-923-3007.