August L. Reader, III, M.D., F.A.C.S.
San Francisco Eye Doctor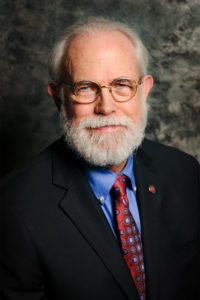 Dr. August Reader was born in Fort Worth, Texas and graduated from the University of Texas at Arlington with honors. After obtaining his medical degree from UT San Antonio, he served his internship at the National Naval Medical Center in Bethesda, Maryland. After two weeks as an intern, he was asked to become a Neurology resident, which he did to complete his intern year.
This was followed by an Ophthalmology residency at the same institution and a Neuro-ophthalmology and Orbital Surgery fellowship at Columbia University Medical Center in New York City. He next headed the neuro-ophthalmology and ocular trauma unit at the U.S. Naval Hospital in San Diego, finishing his tour there as Assistant Chairman of the Department of Ophthalmology and director of the resident training program.
In 1983, he joined a practice with Julian Gunzberg, M.D., and James J. Salz, M.D. at Cedars-Sinai Medical Center in Los Angeles. There he developed a large surgical practice and has written numerous articles for medical journals on radial keratotomy, cataract surgery and lens implantation, neuro-ophthalmology, and on the physiology and psychology of near-death experiences.
He served on the staff of Cedars-Sinai where he was Director of the Visual Electrophysiology Laboratory and Chairman of the Credentials Committee. He also served as a Chaplain at Cedars-Sinai and does work with the terminally ill to help them understand the death process and what to expect at the time of death.
In addition to his work at Cedars-Sinai, he served as the Chief of the Neuro-ophthalmology Units at Children's Hospital of Los Angeles and White Memorial Medical Center. He served as Chairman of the Department of Ophthalmology at Midway Hospital Medical Center for two years and has served on numerous other hospital committees. He was the first person to serve as Vice-President for Peer Review for the California Association of Ophthalmology. He also serves as Chairman of the Managed Care Committee for the American Academy of Ophthalmology. However, he began splitting his time between LA and San Francisco in 1996 to begin practicing at PEA. By 2000, he left LA and has since been with PEA full time.
Neuro-ophthalmology is the area of medicine that deals with those neurological diseases that have effects on the eyes, the vision, and the movement of the eyes as seen in patients with strokes or multiple sclerosis. In addition, those conditions which affect the tissues surrounding the eyes, such as thyroid eye disease, tumors, or inflammation, are conditions seen and treated by Dr. Reader.