Light Adjustable Lens
If you are interested in cataract surgery, you need to consider what types of intraocular lens (IOL) is right for you.  At Pacific Eye Associates, we offer many different IOLs including the latest advance-technology lenses.  One option is the Light Adjustable Lens (LAL).  We are the first practice in San Francisco to offer the adjustable lens technology.  The Light Adjustable Lens is the only IOL that can be customized after cataract surgery.
What is the Light Adjustable Lens?
---
The Light Adjustable Lens (LAL) is the world's first lens implant that can be customized to your eye after surgery.  With the LAL, you will have the ability to adjust the lens and preview possible vision outcomes with your cataract surgeon before you establish your final vision.  The LAL allows you to test drive the different vision settings before deciding on your purchase.  This is the first lens that allows you to tailor your implant to the shape of your eyes, preferences, and lifestyle.
How does it work?
---
Once the lens is in your eye and it has healed, your cataract surgeon will use the Light Delivery Device (LDD) to adjust the power of your lens. The adjustments are completed in our office. Each treatment will only take a few minutes. Between adjustments, you can preview your eyesight and test the different prescriptions. It may take a few treatments to perfect your results, but every adjustment gets you closer to your desired vision.
How many Light Treatments do I need?
---
The number of adjustments depends on the shape of your eye, prescription, and your personal preferences. You might need anywhere from two to four treatments. Each light treatment is about 90 seconds and takes place over two weeks. Once you and your physician have achieved your optimal vision, the lens power is permanently locked in with a final light treatment.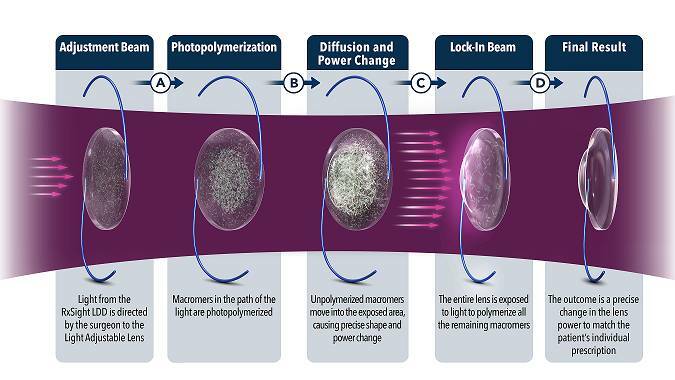 What makes the Light Adjustable Lens different from other IOLs?
---
Cataract surgery replaces your clouded lens with a new lens. This new lens may offer the opportunity to correct vision problems, such as myopia (nearsightedness), hyperopia (farsightedness), astigmatism or presbyopia. However, there's no way to predict how your eye will heal, and other IOLs do not allow for adjustment after healing. The Light Adjustable Len is different. It's the first and only adjustable IOL after cataract surgery. We are proud to announce that our cataract doctors, Drs. Danny Lin, Karen Oxford and Scott So are the first to offer this advanced technology.  
Who's a good candidate for the Light Adjustable Lens?
---
Most patients are ideal candidates, particularly if they want the most precise vision possible and have a desire to eliminate the need for eyeglasses. Also, individuals with preexisting astigmatism may be candidates for LAL. Other IOLs have limitations on who's a candidate.
How can I find out if the Light Adjustable Lens is suitable for me?
---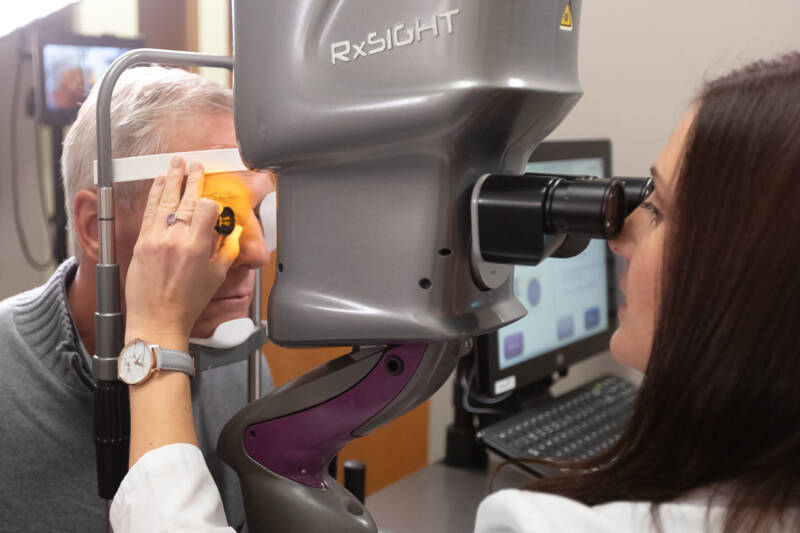 You can learn more about LAL and determine if this new advanced lens is right for you by talking to our experienced and board-certified cataract ophthalmologists, Drs. Danny Lin, Karen Oxford and Scott So.  Cataract surgery is a good way to restore your vision, so make sure you discuss your options before selecting an IOL.
To learn more or find out if the Light Adjustable Lens is right for you, call us at 415-923-3007 or request an appointment online to schedule a Cataract Consultation.
Find out if you're a Candidate for Cataract Surgery
---
Take our Cataract Self-Test to find out if you're a good candidate for surgery. Our cataract team will review your results and contact you to provide more information for your custom cataract surgery.
Please click on the button below to learn more about the different options available.