Cosmetic IPL (Intense Pulsed Light) Therapy
Do you want to look younger and rejuvenated? Have skin conditions like rosacea, sun spots, or fine lines made you feel self-conscious?
With IPL performed at Pacific Eye Associates in San Francisco, you can feel more confident and love the skin you're in.
IPL-based photofacials are a great way to reduce the look of reds and browns in your skin.
IPL-based photofractional facials can reduce fine lines and improve skin texture.
Often done together on the same day, IPL photofacials and photofractional facials are the best options for an overall rejuvenated, youthful look.
What is IPL?
IPL is a procedure that uses intense pulsed light for skin rejuvenation, improving both skin tone and texture depending on the application. At Pacific Eye Associates, all IPL procedures are performed using the Lumenis platform.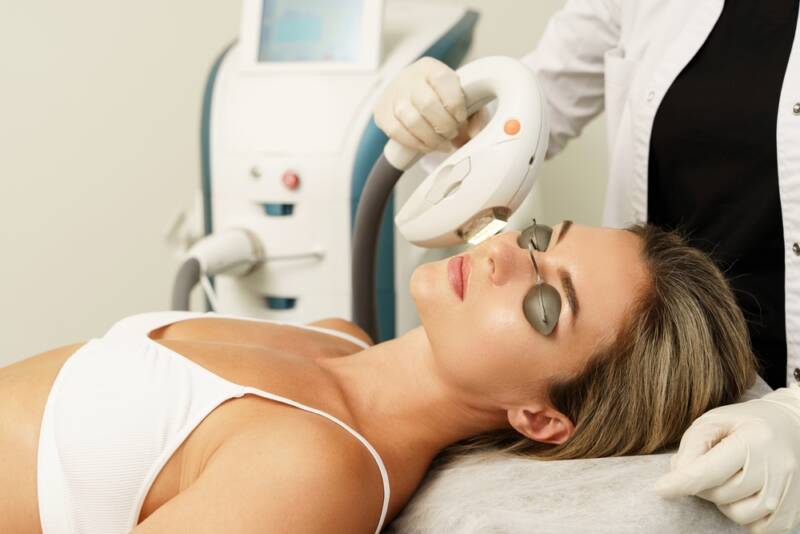 Lumenis was the first to develop IPL technology and create a Photorejuvenation platform. Photorejuvenation means that IPL can treat conditions that occur due to sun-induced damage.
IPL uses a broad spectrum of light, which helps reduce the appearance of fine lines, sunspots, capillaries, and other damage to the skin due to the sun. Our cosmetic IPL treatments use an M22 platform (Modular Aesthetic Laser Multi-Application Platform).
M22 is a modular multi-application platform used to treat over 30 skin conditions. It can also be used for hair removal.
The M22 platform allows Dr. Emily Sarah Charlson, MD PhD., to treat many patients and help them achieve their desired outcomes. The M22 platform features Optimal Pulse Technology (OPT) for Universal IPL procedures and multiple technologies to meet individual patient photorejuvenation needs.
How Does IPL for Rosacea and Sun Spots Treatment Work?
IPL treatment uses broad-spectrum light transmitted through a continuously cooled applicator. A cooling jelly is layered onto the treatment area, and a chilled IPL applicator is then gently placed over the skin.
Next, cut-off filters in the handpiece will change the range of light wavelengths, allowing their optimization. Different wavelengths are suitable for different targets, applications, and skin types.
Once Dr. Charlson has chosen the correct wavelength, the light will penetrate the tissue and spread diffusely throughout it. The light is then absorbed by red or brown chromophores present in the abnormal blood vessels seen in rosacea/other vascular lesions or melanin in sunspots/other pigmented lesions.
Your body will then naturally clear out the debris of the lesion, leaving your skin more even and rejuvenated. Lumenis IPL is a step above because it uses Optimal Pulse Technology (OPT), which gives Dr. Charlson the most control possible for precision targeting and enhanced safety.
Patients have better results, and IPL treatments are gentler and more comfortable. The OPT handpiece is universal and features nine Expert Filters, making it more effective and safer for patients. Downtime after IPL is minimal. Patients can undergo the treatment on their lunch break and return to normal activities immediately after with no downtime.
Does IPL Work Permanently?
If you undergo a cosmetic IPL treatment, the effects will not last permanently. However, the results of IPL should last about six months to a year, depending on what is being treated and the environmental exposures of the skin. You may need maintenance treatments, but each patient is different.
You can prolong the results of IPL by avoiding sun exposure and practicing good skin care. If you don't already have one, start a skin routine that includes avoiding direct exposure to the sun, using sunscreen, and basic skin care practices of skin cleansing, moisturizing, etc. Practicing this routine may help extend the results of your IPL treatment.
Ask Dr. Charlson if you're unsure about what you can do to keep your skin looking youthful and bright!
Am I a Good Candidate for IPL?
If you're considering a treatment like IPL, you may wonder if you could be a good candidate for a photofacial treatment. Good candidates for cosmetic IPL include the following:
Those with sunspots
Those with rosacea
Those with discoloration on their neck, chest, and hands
If you're suffering from vascular redness
You have broken blood vessels on your face
You have abnormal skin pigmentation
Although IPL is an incredible way to help these skin conditions, it is not suitable for everyone. There is a minor risk of skin pigmentation changing after the treatment.
Although rare, it's most visible in those with darker skin if this occurs. IPL is also not recommended if you have keloid scars and other medical conditions. These will be reviewed in detail prior to your treatment.
Does IPL Help with Wrinkles?
IPL stimulates the production of collagen and tightens skin; it improves the appearance of skin tone, which can also help the appearance of wrinkles.
Lumenis M22 IPL is different from others because it's specifically tailored to address the earliest signs of aging, making it the best IPL photofractional treatment available.
How Does IPL for Wrinkles and Fine Lines Work?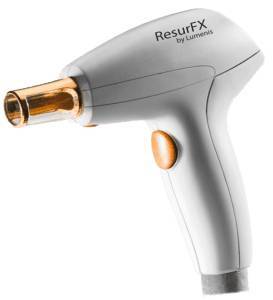 The photofractional facial is done via skin resurfacing with ResurFX on the M22 platform. ResurFX is a non-ablative skin resurfacing technology.
ResurFX uses a fractional laser to stimulate the production of new collagen and elastic fibers in the deepest layers of the skin. This helps you reveal more radiant, younger-looking skin. The skin is not removed during this treatment; therefore, downtime is minimal, and you can return to your usual routine quickly.
A layer of numbing cream is applied to the treated skin prior to therapy with ResurFX. You may experience some mild redness or swelling afterward, which should diminish after a few hours to the next day after your treatment.
ResurFX allows Dr. Charlson to achieve the best possible results over recommended treatments while ensuring patients remain comfortable. Many patients start seeing results, including skin texture and fine-line improvement, after their first session.
What is Resurfacing Skin with ResurFX Used For?
You may be a good candidate for ResurFX if you have any of the following skin concerns:
You want to rejuvenate the appearance of your skin and reduce the look of fine lines and wrinkles
You're unhappy with the texture of your skin
Your skin is loose, and you want to tighten it
You want to stimulate the production of collagen
You have unsightly acne scars
You have cellulite and stretch marks
Combining IPL Photofacial with ResurFX Photofractional Facial
An IPL photofacial for skin tone improvement combined with a same-day ResurFx photofractional facial to address texture and fine lines is the most common comprehensive skin rejuvenation solution. Using the power of both technologies together helps improve skin texture and tone during one treatment session.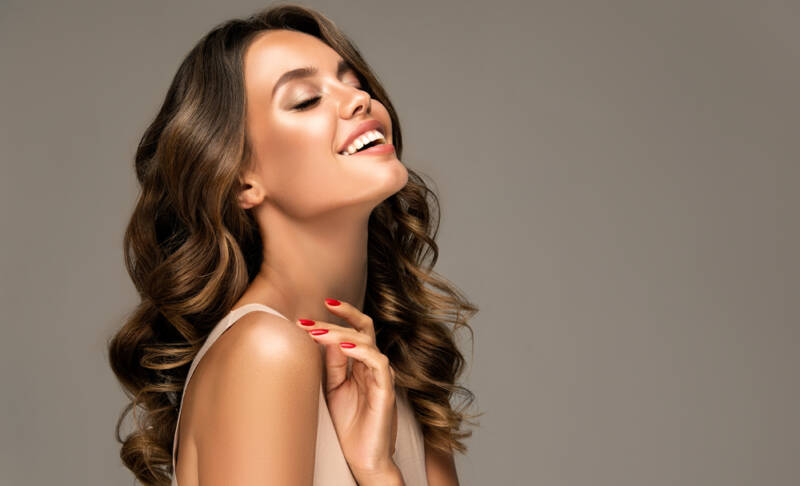 With this treatment, you can treat numerous skin concerns in one treatment, including fine lines, wrinkles, age spots, stretch marks, broken capillaries, acne scarring, and more. These treatments can be done on almost any part of the body, but many patients choose to have them performed on the face, chest, arms, legs, hands, and abdomen.
For busy patients, this combination is an excellent way to look and feel better without worrying about a long recovery or lengthy downtime. Patients leave glowing and looking the way they've always wanted.
Are you ready to look your best? Learn more about IPL and other cosmetic treatments available at Pacific Eye Associates in San Francisco, CA, by scheduling an appointment now!