Optical Boutique
San Francisco Optical Boutique Services
At Pacific Eye Associates, we have three exceptional and experienced optometrists. Dr. Thomas King OD, Laura Inger OD, and Mary Kwong, OD.  All three of our doctors graduated from prestigious doctoral programs of Optometry, from the University of California, Berkeley. Drs. King, Inger, and Kwong are all qualified to check the health of your eye, as well as, prescribe glasses and contact lenses.
In addition to our optometrists, we have an ABO certified optical team.  ABO stands for American Board Of Opticianry. ABO is the largest and most prestigious opticians' certification organization. This organization recognizes individuals whose optician skills, as well as knowledge, meet the predetermined standards of excellence. Thus, the certified opticians can assist with the selection of frames and determine which lenses are right for you.
What Services Do We Offer?
---
Health Check of your Eyes
Visual Test

Eye Glasses Prescription, if needed
Contact Prescription, if needed

Frames for Purchase*
Lenses for Purchase*
Contacts for Purchase
*You may bring an old pair of eyeglasses. We can fit your new lenses to your old frames.
Lenses
---
In addition to our excellent service, our boutique carries the state of the art lenses from these companies: Hoya, Zeiss, U.S. Optical, VSP, and Varilux. It's important to find the right lenses that work best with your prescription and eyes.
There are different ways you can customize these lenses:
Special Computer Lenses: A special type of lenses which will block out blue light reducing the risk of blurred vision and eye strain.
Progressive Lenses: No-Line Bifocals
Hi-Index: Lenses made of a thinner and lighter material
Polycarbonate: A material that makes the lenses more durable
Variety of Coatings options: All lenses in California come with an ultraviolet coating for free. As a result, we offer specialized tints, polarized and scratch resistant coating as well.
Frames
---
The Optical Boutique has a full selection of quality frames.  With a wide range of different prices to suit your budget. Below are just some of the frames on offer at our boutique. Maui Jim, Gucci, Silhouette, Kate Spade, Cazal, John Varvatos, Lafont, Matsuda, Caviar, Bevel, Goliath, State, Chloe, MCM, Nike, Menrad, Minima, Fossil, Scott Harris, Koali, Chesterfield, Innotec, Minima, Kala, Bebe, Altair, Joseph Abboud, Cole Haan, Calvin Klein Jeans.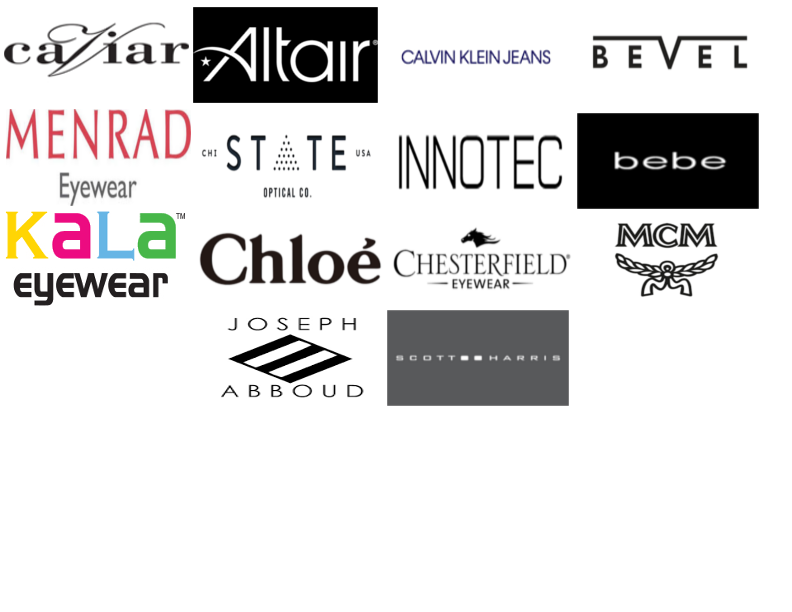 Contact Lens
---
We carry all the major contact len brands at our office.  From monthlys to biweeklys to dailies, we have contact lenses avaliable for trial wear, and we can order contact lenses and ship right to your door.  You can also order contact lenses directly from Yourlens.com, after your appointment with one of our optometrists just ask your optican about how to sign up for an account.