Danny Y. Lin, M.D.
San Francisco Ophthalmologist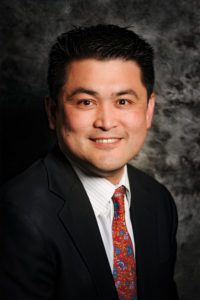 Dr. Danny Lin is a board-certified ophthalmologist with subspecialty fellowship training in cornea and external ocular disease, cataract, LASIK, and refractive surgery.
After graduating Phi Beta Kappa and Summa Cum Laude from UC Berkeley, he entered Stanford University where he completed medical school and his residency in Ophthalmology.
Dr. Lin joined the Jules Stein Eye Institute at UCLA to pursue a subspecialty program in the cornea, external ocular diseases, and refractive surgery. He was an associate refractive surgeon and a visiting assistant professor in ophthalmology at the UCLA Laser Refractive Center.
He performed advanced laser vision correction procedures such as Laser In Situ Keratomileusis (LASIK), Photorefractive Keratectomy (PRK/ LASEK), corneal transplantations, and complex cataract/intraocular lens implant surgeries to improve vision.
Dr. Lin joined Pacific Eye Associates in 2004. He is pleased to offer a full range of ophthalmologic care including corneal and comprehensive eye consultations, cataract surgeries, intraocular lens surgeries, corneal transplantations (PKP/DSEK), and laser vision correction surgeries.
His practice also incorporates the latest refractive surgery techniques such as the Intralase all-laser custom LASIK surgery, LenSx all-laser cataract surgery, and the latest premium intraocular lenses (Restor multifocal, Tecnis multifocal, Symfony, Toric intraocular lenses).
In addition to his clinical activities, Dr. Lin has contributed to research in refractive surgery, corneal diseases, digital diabetic retinopathy screening, and cytomegalovirus retinitis. He is the Medical Director for Eye Surgery Center of San Francisco. He is a member of several professional organizations including the American Academy of Ophthalmology (AAO), the Cornea Society, International Society of Refractive Surgery (ISRS) and the American Society of Cataract and Refractive Surgery (ASCRS).
He is an invited presenter at professional conferences. Dr. Lin is also actively involved in the teaching of ophthalmology residents. He serves as the Chief of cataract and anterior segment service at California Pacific Medical Center.