Jennifer U. Sung, M.D.
San Francisco Ophthalmologist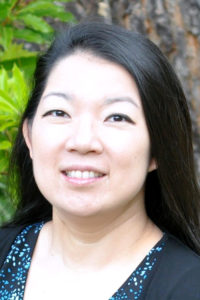 Dr. Jennifer Sung is a board-certified ophthalmologist with subspecialty fellowship training in the medical and surgical diseases of the macula, retina, and vitreous. Her special areas of interest include treatment of diabetic retinopathy, retinal vascular occlusions, macular puckers and holes, retinal detachments, and age-related macular degeneration.
Dr. Sung grew up in the Northeast but ventured to the Midwest where she graduated from Northwestern University in the Honors Program in Medical Education with a B.A. degree in Neurobiology and Physiology. Dr. Sung then continued her education at the Northwestern University Medical School where she received her medical degree. She was a Howard Hughes Medical Institute Research Scholar at the National Institutes of Health.
Dr. Sung completed an internal medicine internship at Evanston Hospital in Illinois, and a residency in Ophthalmology at the Bascom Palmer Eye Institute in Miami, Florida. She subsequently received intensive vitreoretinal subspecialty training at the Wills Eye Hospital in Philadelphia before heading to London, United Kingdom, where she completed a retinal research fellowship at Moorfields Eye Hospital.
Upon completion of her education, Dr. Sung joined the faculty as an Assistant Professor of Ophthalmology at the Wilmer Eye Institute at Johns Hopkins University School of Medicine in Baltimore, MD. She has taught numerous medical students, ophthalmology residents, and retinal fellows in the medical and surgical treatment of retinal diseases.
While at Johns Hopkins University, she was a co-investigator in multiple clinical trials for age-related macular degeneration, retinal vein occlusions, diabetic retinopathy, macular edema, and proliferative vitreoretinopathy. She received a Knights Templar Foundation Award and an NIH K12 Clinician Scientist Grant Award to study neuroprotection in the retina. During this time, Dr. Sung also graduated from the Johns Hopkins University Carey Business School with an MBA in Healthcare Management.
Dr. Sung joined Pacific Eye Associates in 2011. She provides medical and surgical treatments for retinal diseases using the most advanced technologies and surgical equipment. In addition to her clinical activities, she is a peer-reviewer for ophthalmic journals and is a member of the American Academy of Ophthalmology, The Retina Society, The American Society of Retinal Specialists, and The Association for Research in Vision and Ophthalmology.
Dr. Sung enjoys being in the San Francisco Bay area with her family, music, and ballet.