David Heiden, M.D.
San Francisco Ophthalmologist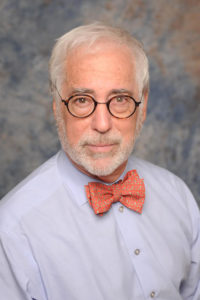 Dr. David Heiden is an ophthalmologist with subspecialty training in uveitis. He practices general ophthalmology with a focus on inflammations of the eye and problems where eye disease is part of a general illness of the patient, such as patients with collagen-vascular diseases or systemic infections such as HIV/AIDS.
He has published medical research articles, served on Academy of Ophthalmology committees, and as section chief for uveitis at California Pacific Medical Center (1996-2006), and is regularly listed in "Best Doctor" reports for San Francisco and nationally. In 2018, Dr. Heiden was awarded the Outstanding Humanitarian Service Award by the American Academy of Ophthalmology.
Dr. Heiden grew up in South Florida and was educated at Cornell University, cum laude (history), and New York Medical College. He did residency training at California Pacific Medical Center in Internal Medicine as well as ophthalmology. He has done research fellowships in cardiovascular disease and blood coagulation in addition to clinical fellowship in uveitis at the Proctor Foundation at UCSF Medical School.
He also spent a dozen years as an emergency room doctor including a year as an emergency room director at California Pacific Medical Center and was board eligible in emergency medicine.
As an emergency room specialist, Dr. Heiden worked in refugee disasters on the Cambodian border, Somalia, and the Ethiopian border during the disastrous 1985 famine in the Sahel region of Africa. The latter work was described in photographs and words in the book "Dust to Dust, a doctor's view of famine in Africa (Temple University Press 1992).
Images from that project and others have been published in numerous magazines and newspapers, exhibited across the country, and are in the collection of SF MOMA.
Dr. Heiden has worked in Sudan, Yemen, India, Nepal, and Tibet on the ophthalmology problems of trachoma, vitamin A deficiency, river-blindness, leprosy, and cataract. Since 2004, his attention has been focused on how to use eye skills to prevent blindness and mortality in the global epidemic of HIV/AIDS, an area that had previously been ignored.
Fieldwork in South Africa, Uganda, Cambodia, Myanmar, Thailand, Laos, Mozambique, Russian Federation, Ukraine, and primarily in collaboration with Doctors Without Borders HIV/AIDS projects. Dr. Heiden has been reported in numerous scientific papers, and he is now the Medical Director of the Aids Eye Initiative at SEVA Foundation's Center for Innovation in Eye Care.