COVID-19 Safety Measures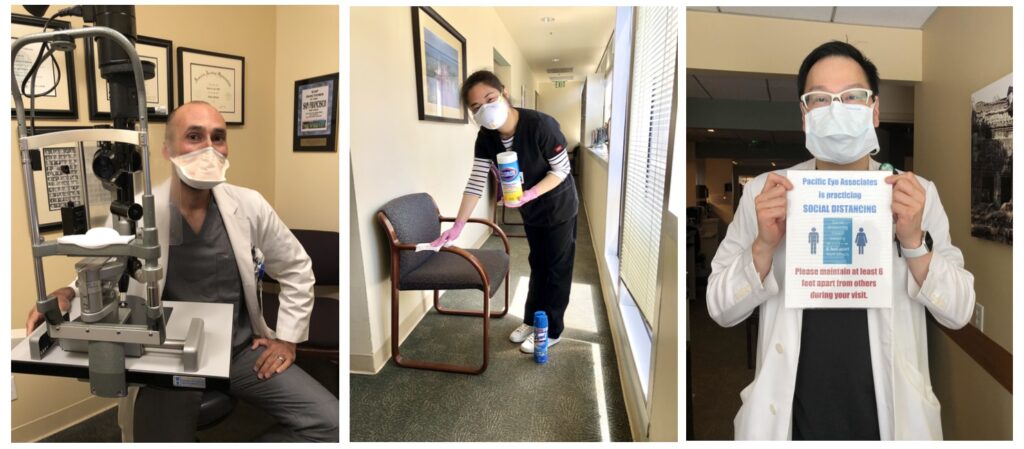 As restrictions ease in San Francisco and the Bay Area, our office are implementing new measures to ensure that you're returning to a safe environment. To help maintain social distancing in our office, we will not be seeing as many patients as we normally would before the COVID-19 pandemic. Safety is our top priority. Some of our physicians are offering virtual telemedicine visits. Please click here to learn more.
For Our Staff & Office – Screening & Disinfecting
---
All employees' temperatures are checked every day.
Staff members & doctors are required to wear face masks
The entire office is thoroughly disinfected daily
Our common areas, such as our waiting rooms, are disinfected throughout the day
The ophthalmic technicians will disinfect all diagnostic machines, exam rooms and all instruments before each patient
For Patients- A New Appointment Process
---
Before Your Appointment
Please bring a face mask or covering and wear it at all times. This is mandatory.
Please plan to be at our office no more than 10 minutes before your schedule appointment.
Unless assistance is required, companions are kindly asked to wait in the car.
At Your Appointment
One of our staff members will meet you at the front door and take your temperature.
In accordance with the City and County of San Francisco Department of Public Health (SFDPH) and the Centers for Disease Control & Prevention (CDC), you must answer there following questions.
Once you pass the screening, you will be asked to sanitize your hands.
Our chairs in the waiting room are situated 6 feet apart and we ask that you maintain social distancing throughout your visit.
We Are Here For You
---
These new processes and guidelines to keep you safe. At first, all these rules may seem overwhelming. Our goal is provide a safe environment for you. As we start to transition back to the new normal, please call us at 415-923-3007 or send us a message if you have any questions or concerns.