5 Reasons Your Inner Athlete wants Better Vision
The Golden State Warriors just won the Finals. You want to be apart of the dream team, but the only thing standing in the way is your vision. Ok, maybe you're not the next Steph Curry or even the G-League worthy but if you're still frustrated with contacts and glasses, then there's a solution.
Your glasses, though, are not in it to win it like you are. The athlete in us all is perpetually in conflict with those frames resting on our face. Whether you are a swimmer, soccer player, rock climber or simply just wanting better vision, LASIK with Dr. Danny Lin, maybe the answer to help achieve your inner athlete.
Here are five ways your glasses and contacts are killing your game…
1. Leaving your glasses at home is not an option
It's tempting to go and play without them for the duration of the game, but that is unwise. You run the risk of a headache or not being able to see where you're going. Dealing with a headache, bumping into teammates or tending to a potential sports-related injury is not exactly how you want to spend your afternoon.
2. Your glasses don't offer peripheral vision support
One of the biggest flaws of prescription glasses is that they limit your peripheral vision around the frame. In class or in the office, this isn't a big deal. Who cares if the person sitting next to you is on the phone or picking their nose? But on the court or field, peripheral vision could mean the difference in bringing home the win or suffering the big loss.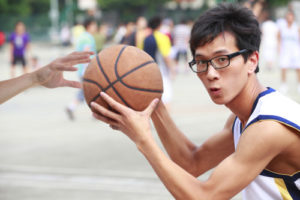 3. Your glasses and contacts don't always stay on
Especially when you're dripping with sweat which will cause your glasses slide off. Many people tend to switch to contacts when on the field but even contacts lenses can be knocked off your eyeball.
4. Or worse, they break
When those glasses go a-tumbling and end up under your teammates' feet, they're goners. Or worse, when the ball smacks in you in the face, not only will your glasses be broken but you might have to spend the rest of your day at urgent care. Not fun. Hard contact wearers will face the same dilemma while soft contact wearers might spend the afternoon looking for contact within their eye socket.
5. Prescription goggles are always an option…
For the paradoxical nerdy jock look, or if you want to look like a summer who lost the pool.
Let's face it. Glasses are an inconvenience on the court, field, slope…you name it, but they're also an inconvenience in everyday life. They fog up, get dirty or scratched and leave those red marks on the bridge of your nose at the end of a long day.
If you're looking to take that inconvenience out of your life, it might be time to reconsider LASIK. It may not make you better at your game, but seeing clearly all day long without glasses is…well, nice.
Curious? Take our LASIK test now to see whether you're a candidate. Or schedule a free consultation with Dr. Lin, contact us today!